What we do:
From our website, we allow you to upload any PDF file of a funeral program
We create a unique memorial QR code to reference digital products online
Provide you with a printable Memorial Scans sheet which allows, via any smartphone device, access to a digital copy of the personalized memorial product online.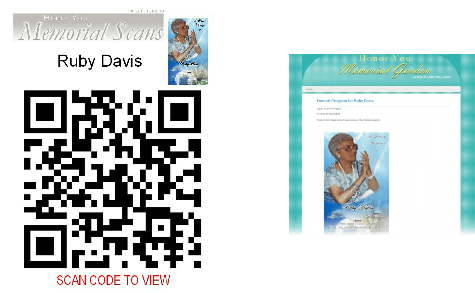 SAVES MONEY by eliminating the costs of physically producing printed products.
Using any PDF of a designed funeral program or memorial, easily CREATE ONLINE
UNLIMITED USE – It can be scanned by literally thousands of people.
It is Environmentally Friendly.
Consider other avenues to remember family members and friends that have passed on with a memorial QR code. We provide online memorial QR codes that allow your loved ones to access wake, memorial, or funeral information in a seamless and simple way. Using any smartphone device or tablet, personalized funeral and wake service memorial items can be easily viewed during the final services by family members, friends and loved ones. We also offer a personalized QR code for headstones and gravestones. These codes have made it easier for everyone to access memorial information without printing paper copies of burial information.
Additionally, you can create a digital memorial book for others to use for sharing memories, photos, and information about funeral and wake services. Continue reminding your friends and family members of beautiful memories by using a memorial QR code to make accessing information for the funeral and wake service easy. Learn more about our codes for grave monuments and memorials below. Below, you can learn more about obtaining a memorial QR code and some benefits that go with using one at a funeral service.
Memorial Scan for a Monument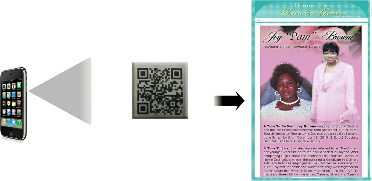 Unlimited information of your loved one can be made available.
Can be easily affixed directly to headstone monument using specially engineered adhesive backing for outdoor use
Multiple pictures, videos & visitor comments allowed
Security feature can be enabled for privacy of information